INDEPENDENT STUDY ENROLLMENT OPTION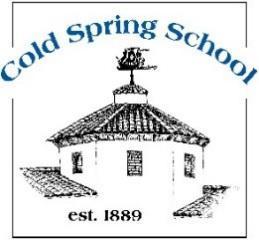 Cold Spring School District
2243 Sycamore Canyon Road, Santa Barbara, CA 93108
(805) 969-2678 ● FAX (805) 969-0787
www.coldspringschool.net
NOTIFICATION OF ENROLLMENT OPTIONS FOR 2021-22 SCHOOL YEAR
Parents/Guardians of a pupil whose health would be put at risk by in-person instruction have the option to enroll their children in in-person instruction or independent study for the 2021-22 school year. In the Cold Spring School District, independent studies will be offered through the inter-district transfer process with other districts offering independent studies programs. The receiving district will be determined by space availability.
Conference
Parents/Guardians have the right to request a pupil-parent-educator conference to ask questions before making a decision about enrollment or disenrollment in the options for learning. The conference may be conducted via telephone, zoom, or in-person. If you wish to request a conference, please contact Dr. Alzina at (805) 969-2678 or at aalzina@coldspringschool.net

If you are considering independent study, please let us know by July 30, 2021 so we have accurate enrollment information.
Procedures for Enrolling, Disenrolling, and Reenrolling in Independent Study
To enroll in independent study for the 2021-22 school year, there must be an agreement in place by September 17th, 2021, 30 days after the first day of school. For students with exceptional needs, the student's individualized education program (IEP) must specifically provide for independent study before the student can begin participating.

If you wish to have your student return to in-person instruction during the school year, you will provide notice to the Cold Spring School District of your intent to do so, and your student will re-enroll in the district no later than five instructional days after we receive the notice.
Requirements for Instructional Time in Independent Study
AB 130 requires the following:
For TK - 3rd grade students, an opportunity to participate in daily synchronous instruction (the amount of time in these opportunities is not defined and will be determined by the district hosting the interdistrict transfer)

For 4th - 6th grade students, plans will provide opportunities for both daily live interaction and at least weekly synchronous instruction (the amount of time in these opportunities is not defined and will be determined by the district hosting the interdistrict transfer)
Live interaction means interaction between students and the teacher, aid, or other personnel and may include peers. This interaction may be in person, via Zoom, or phone.

Synchronous instruction means classroom classroom-style instruction, or small group, or one-on-one instruction delivered in person, via Zoom, or phone and involving two-way communication between the student and teacher.

Questions & Enrollment
If you have any questions regarding the independent study option for the 2021-22 school year or wish to request a conference in order to request an interdistrict transfer for independent study please contact the superintendent at:
Amy Alzina, Ed.D.
aalzina@coldspringschool.net
(805) 969-2678